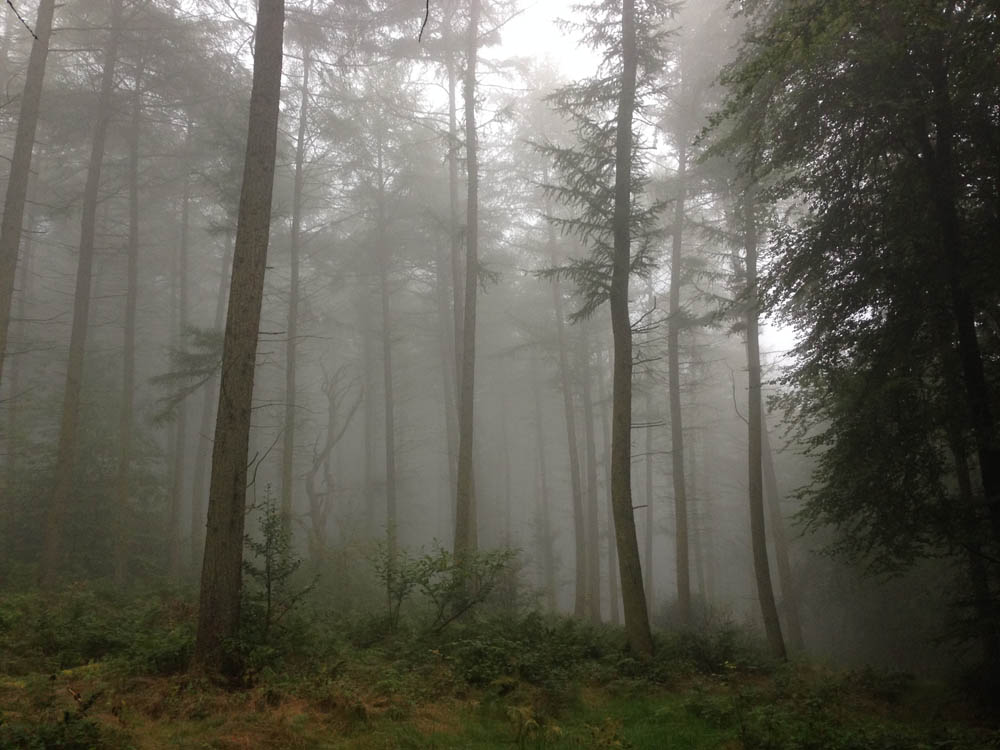 I wanted to get in one more longer trip before the weather turned for the year. Although I will keep bikepacking in to the winter the want to get out for multiple nights becomes less pressing in the cold, wind and rain. I took the week off work and planned a trip that would be roughly triangular in shape taking in some areas of mid Wales that I haven't been to before and stay at some bothies I hadn't stayed in before. I have ridden so much of mid Wales this year that it would be pretty tough to go to entirely new places but where I had been to area before I was very careful to make sure that at least the route was new to me. This even meant riding a lot more road than I normally would, a decision that I later came to realise gave me many other benefits than just something new.
Day 1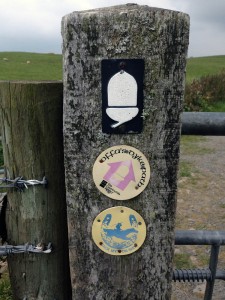 The day started a bit greyer than I thought it might. The weather had been predicted to be dry and clear but it was damp and cloudy. I jumped on the train from Birmingham and as I made my way west the clouds began to clear. Unfortunately this was the last I saw of any blue skies as by the time I had got into Newtown the clouds were back and felt like they were in for the day. It was a muggy type of day, being quite airless and warm but very damp and a bit grimy. I couldn't quite get comfortable constantly undoing my gillet and taking it off and putting it back on again. The route along the Kerry ridge way and the portion of the Offas Dyke Path that I dipped into was quite enjoyable however. I was able to just keep the peddles turning and although the views were not particularly great because of the hazy mist I was feeling quite good. It's amazing though how quickly your mood can change though.
I pressed on towards Llanfair Waterdine passing through the small village and to the steep climb up to the ridge. The terrain around here is very open a barren and although you could see for miles in most directions there was something uninspiring about the views. The further I went the more oppressive the atmosphere became and I started feeling lonely.  The light was very dull and what should have been brightly coloured purple heather and blooming yellow flowers looked very muted in the haze. It was an odd part of the day which I feel I spent just trudging onwards trying to get somewhere else. It meant that instead of enjoying the riding and solitude I was fighting demons and not really enjoying anything. By the time I got to Radnor Forest the rain began and did nothing for my mood. The route here was very grassy and bit of a slog. I needed to walk quite a few of the steeper climbs and even once I was back on the bike I was off again opening and closing the seemingly never ending selection of gates. It seemed like even they were conspiring against me, some being so stiff to open it meant lifting the bike over made more sense and even some of those that opened still needed to be lifted to get the bolt to slide back into place.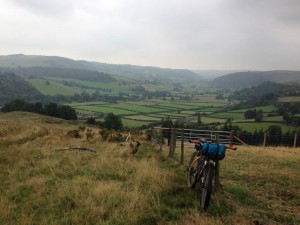 Eventually I realised I could get off the tracks and take a detour that would see me get into New Radnor via a much easier route on the road. I headed towards this short cut but it meant going through a farm yard and using the track down to the road; not a ROW. As I neared the farm house the farmer appeared and he was clearly walking towards me. I knew this could go one of two ways so with my best winning smile I headed over to him to "ask for directions". Thankfully he was a really friendly chap and advised me not to follow the bridleway across his field as it would be terrible on a bike and to use his track down to the road instead. I thanked him for his kindness and pushed on. It's amazing how a simple small interaction like this can give you a well needed lift. The rain seemed to stop after this and after a few miles I was in New Radnor asking the land lady at the Radnor Arms to fill my water bladder. She was very accommodating and I promised myself that I should visit again sometime for dinner. I chatted for a short while with some locals who suggested that there would be a good spot to camp at Water Breaks It's Neck. This is a small water fall that was on my route for the next day but I had planned to do a loop round Gwaunceste Hill this evening before finding a place to stop. As there was only an hour or so of day light left I thought it sensible to accept their advice and headed straight for the water fall. I found a spot in the failing light and wasted no time in getting the tarp up and making some food. Relatively speaking I was feeling a lot better now although the memory of what was a bit of crappy day did dampen my mood. It was a shame to start off the trip this way but I kept in mind that tomorrow was another day and got my head down for the night.
Day 2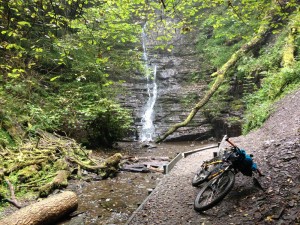 Waking up I felt quite refreshed. This was surprising as I had woken up several times during the night and not always managed to get back to sleep straight away. As I lay in my bag I looked out from under the tarp at a beautiful view of the mist drifting through the trees. There was a magical feel to the forest that morning that really lifted my spirits. As I eat my porridge and drunk a cup of coffee I contemplated the previous day but was able to let these stresses go and prepare myself for the day ahead. I was feeling altogether better today and knew this would be a good day.
I packed my gear and rolled down the gravel road. I made the short walk to the water fall and spent 15minutes or so admiring the small gorge that you find yourself at the bottom of. I imagine that due to the dry summer this year the falls are not as spectacular as maybe they could be but it was still a beautiful sight, with the moss covered rock and the foliage growing out of the near vertical rock walls. I filled my water bladder and made my way back along the access road towards where Sustrans Route 825 (Radnor Ring) heads north up to the ridge east of Llandrindod Wells. Looking at the map I expected this ridge to be slow going but actually it turned out to be mostly ridable double track, with even the one grassy tussocky section being totally ridable. As I traversed the ridge the sun burnt off the mist and blue began to fill the sky. Although the terrain was in reality very similar to the previous day being able to see the views with a different set of eyes made all the difference and the time passed very quickly. Before I knew it was making the fun descent from the ridge into the valley and joining the road to Rhayader. Normally I would have done everything in my power to avoid this much road but it was great riding with lovely views in the now warm sun. I was able to make much better time than I would have done off road which meant I was able to to take a proper lunch stop in Rhayader. After I paid a visit to Spar to get a sandwich and Ty Morgans who sell the best sausage rolls in the village, I sat for an hour or so outside the pub. It was great to relax and not feel like I had to keep moving to adhere to some kind of schedule. I watched the world go buy and enjoyed a little sun. In true tramp style I also took the opportunity to lay few things out to dry.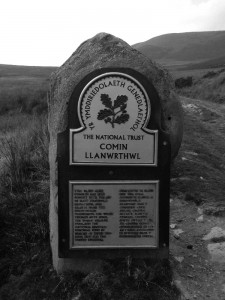 Eventually I left Rhayader behind for the beauty of the Elan Valley. I dropped off the road crossing the bridge and into the village. I have always found Elan Village with it's slate and dark brick buildings to be a surprisingly bleak place amongst the beauty of the valley. However in the late summer sun even the village was a happy place to be that day.
The once I have gone south from this area before it was across the infamous Carnau, during the BB200 last year. For those of you that don't know the bridle way across Carnau is well… not really there and at best you following the odd sheep trail and a line on the GPS. At worst you are off into a long boggy tussocky hike-a-bike that will either make you a man or crush your soul forever. As I really wanted to go south to spend the night at Moel Prysgau I decided to try the bridle way that crosses Comin Llanwrthwl. I didn't really expect this to be any better but as it was definitely going to be a shorter hike I thought it was a good bet. As it turns out this is obviously an old road and much of the original stone is still on the ground. Sure it disappears in sections and there was the odd time I was jumping on and off but on the whole it was a decent ride. I probably wouldn't be so keen had we had a wet summer but generally I wouldn't hesitate to go this way again.
I then mostly followed the road for a while but occasionally dipping in and out of the forest and passing the small trail centre at Trallwm. I had hoped to grab a coffee here but unfortunately the cafe was closed. It would appear that it only opens on weekends now. A little way down the road I took a right and headed up the valley road towards The Devils Stair Case. The view along the valley from the road is absolutely stunning and I think this is probably the one of the best examples of where it's just not worth riding the off road alternative. I pushed up the 25% hill not even attempting to ride up. I doubt I would have cleared it this time with a heavily laden bike anyway, but I just didn't think attempting it was a sensible use of energy with several days of riding still ahead of me. Once over the brow I soon left the road on the track that stays on the east side of the valley. Eventually this track reaches Tywi Forest and I was presented with a choice. I could fork right and follow the fire road round to the east and then using a short section of bridle way, come into the bothy from the north-east corner.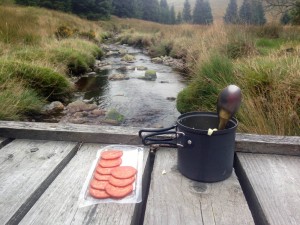 The alternative was forking left and dropping south under the bothy but having to use the old road that winds it's way backwards forwards across the river and risk fording the water course 3-4 times before reaching the bridle way turn off. From the comfort of my computer screen I had decided that the fire road east was the best bet but once on the ground I could see that the fork right was actually a very deeply rutted muddy track that wasn't particularly inviting. I went with the old road and thankfully with the dry summer the river level was low making fording very easy. Within minutes a clearing in the trees appeared to the right of the road and I could see the corner of the building I was heading for. A short tussoky hike a bike later and I was opening the door to the bothy.
The location of this bothy and the lack of offerings to the bothy Gods would suggest that it's not used a great deal. However after checking the book it appears there was actually someone there for lunch that very day. I cooked up some pasta and meat and sat on the bridge in front of the bothy. It had been a good day and I was really glad to have shaken off the malaise of the previous day. After getting the fire going I climbed into my bag and read for a few hours before drifting off to sleep.
Day 3
I had an undisturbed sleep so clearly those silicone ear plugs worked a lot better than they did the night before… or maybe being a couple of days deep into riding now I was just dead to the world. Whatever the reason I was feeling good and in a very positive mood. Once again I tucked into my porridge and watched the sun come up over the head of the valley. It was beautiful clear crisp morning without a hint of the previous days mist.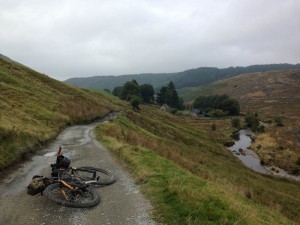 Unfortunately the day before I had dropped my gorilla pod but I was pretty sure I knew which bit of the track this must have been on. Looking at the map I decided it would be easy to back track and make a small detour. I went back across the fords and retraced my peddles along the track towards the road. I spent a short time looking but didn't find it. I didn't want to get to hung up on it though as I didn't want to let this loss spoil my mood. I pressed on east and dived back into the forest again to rejoin my planned route. Before long I was back onto the road to Tregaron where I stopped to resupply. It seemed a little early for lunch but I didn't want to carry lots of food with me so I sat in the village square, watching the world by and munching on a couple of pasties. One of the great things about having a packed up bike is how much of a conversation starter it is. I chatted with an old boy who was waiting for the bus and really enjoyed talking to him.
North of Tregaron I had noticed a Sustrans route on the map that I had decided to follow. I hadn't been this way at all before and as Sustrans routes are normally designed to go through points of interest or take in good views on quiet roads, I thought it would be a safe bet. I wasn't disappointed at all as it turns out it passes through Cors Caron, a national nature reserve. It was very pleasant riding along the old railway line that crosses this peat bog. I stopped to sit in the observation tower wishing I saved my lunch to eat here. Someone had left an information booklet so I read about how this area used to be part of the Strata Florida Abbey Estate and how the railway line I was riding was built. It had been constructed on bails of hay and mud so was effectively floating which was actually an amazing feet of engineering for the time. The views aren't exactly stunning here and I didn't really see much in the way of wild life but the atmosphere was so immensely relaxing. There are a couple of walks that go out into the main area of the reserve, not open to cyclists, that I would really like to check out so I vowed to return maybe next summer and this time with my girl friend in tow.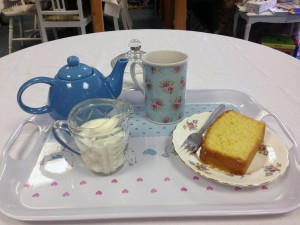 I continued north on Route 82, through Coed Craigyrog and onto Pont-rhyd-y-groes. Although I have ridden through this village before it was always on the high road so I had never seen the 24ft water wheel that has been preserved here. It is driven by water that runs down from the old mine and was used to drive the crusher that pulverised the ore mined there. I popped into the Cwtch tea room opposite, initially just to get my bladder filled but as I stood waiting temptation proved to much. I sat for awhile eating a slice of lemon drizzle cake, drinking tea and chatting to the very friendly lady proprietor about my trip. Turns out she is from Cardiff as well and had grown up in a very similar area to where I had.
Leaving the village I climbed up through Coed Hafod on Route 81 and into the Forest. Although I have ridden through here quite a few times and stayed at Nant Syddion and number of times I had never done the switch back climb to the north of Cwmystwyth. The climb itself wasn't actually to bad. It's a bit of a grind for sure but it never gets overly steep and the view to the south is stunning. The part I wasn't prepared for though is the track leading to it. The wind had suddenly picked up from no where and emerging from the trees the small plateau is so open and barren there's no cover what so ever. I wondered if not leaving a sacrifice at Moel Prysgau had angered the bothy gods, as I was I was reduced to a difficult 4 and half miles an hour on the flat!
As I reached the wind farm I knew that my destination was not that far away. I have never stayed at Nant Rhys before; only popped my head in once to have a nose as I was passing. This is certanly one of the best appointed bothies I have stayed in with there being plenty of sleeping space in the snug. The wood piles were well stocked but more importantly already chopped up. It's a job I normally enjoy but today I just didn't fancy it. I collected some wood to leave to dry although there didn't seem to be the abundance that I expected. As it was still quite early I thought it might be nice to go for a bit of ride near the bothy so I stripped the bags off the bike and headed out for a short while. While I was out I found a spot to leave my camera on time lapse to capture the sun setting over the wind farm.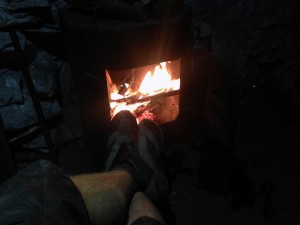 I headed back to the bothy and cooked up the korma and rice that I picked from the Spar earlier in the day. I hadn't been sure about the water situation at the bothy, so deliberately went for something that wouldn't need water adding to it. I'm glad I did in the end as I couldn't find a water source at the bothy.
I was surprised to see that there is mobile phone signal here so I checked out the weather forecast for the coming days. The next day was predicted to be cloudy and dry but the day after (my last planned day) looked decidedly wetter. Normally rain won't stop me doing anything but it sowed the seed that actually I might forgo going up to Lake Vyrnwy and head back to Newtown the next day.
By the time I had finished eating the sun had well and truly set so I donned my lighting and popped out to pick up the camera.  On my return I boiled some water to make a hot chocolate and sat in front the roaring fire, eating some flapjack and reading my book. It had been another great day riding my bike and seeing mid Wales.
Day 4
Having made the decision that I would go home today, I made sure I was up early to get a good start on the day. I wanted to be in Newtown for the 12:46 train but I didn't want to have to rush get there. I had been enjoying the leisurely pace of this trip and didn't want to change that now. I was surprised to see that it was still dark outside, winter is certainly coming. As it started to get light I was already packed and ready to go.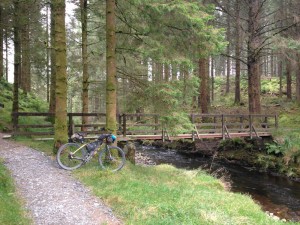 It was a misty morning but still fairly mild in temperature. It was amazing the difference between how it felt riding in the mist and damp descending into the Wye Valley compared to how it felt in Radnor only a few days before. Maybe it was because I was in the forest and it's somehow more comforting to be surrounded by trees or maybe it was a better state of mind and the issues were just all in my head. Whatever the reason, the weather seemed to mute the sound in the valley and gave me sense of wonderful sense of peace that I really appreciated. It's moments like this where I'm really thankful that I do trips like this on my own. It allows me to empty my head in a very unconscious way. I'm not thinking about "not thinking about anything" I just don't… It's generally the state I try to reach when ever I'm on my bike as it's one of the few times that I truly relax. The descent into the Wye Valley either from the Nant Syddion or Nant Rhys directions and the climb back out past Sweet Lamb and up to Hafren seems to put me into this state.
Through Hafren I took the tried and tested route crossing the River Wye at the carpark. I stopped for a little while here and filtered some water and soaked in my surroundings. As far as I could tell this was going to be the last section of off road I was going to ride this trip, so I wanted to savour it for as long as possible. I then took the well trodden route up the road to Staylittle and the ridge road heading towards Caersws.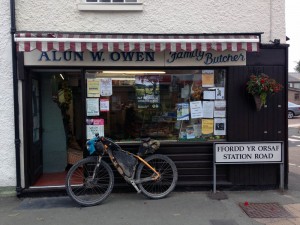 I stopped briefly at the Spar and picked up a bacon turn over. As I stood on the street chowing down I looked across the way and noticed the traditional family butchers and wondered what I might have for dinner that evening. It wasn't long before I was tucking a bag of home made sausages and minted lamb burgers into my saddle pack and heading to Newtown. The last 8 miles past without incident and I reached my final destination. It had 45mins or so before the train left so I grabbed a sandwich and sat by the river mulling over the last few days. Eventually it was time to head to the station and get the train home.
Although I started this trip with the express intention of staying out for longer and "doing the plan" I didn't feel any sense of disappointment going home a day early. I had got what I had come for and I was finishing on a high. I wanted the lasting memory of this trip to be the several days of great weather not the trudging home in the rain so there were not regrets what so ever, especially when I woke up to it sheeting it down the next morning.
What did I learn this trip?
I planned to do less miles each day than I might normally. I made the longest day 60 miles which meant I simply had more time to get from place to place. This meant I didn't have to rush in terms of the speed I was riding and it meant I could stop where ever I liked, for whatever reason. I normally end up planning routes so that broadly speaking I'm riding all day which means you get a lot of nice views in but not always the time to enjoy them.
Not only was there less distance but larger parts of that distance were on the road. One of the great things about riding on the roads is that you go through places. Places that you often what to stop at and with eat your lunch or have a quick read about the local history. They also have places like cafes and tea rooms where you can get a slice of cake and have a chat to people. In my experience when you are always trying to get in as much off road as humanly possible you just don't end up doing these sorts of things. Maybe this is failure on my part in the past and can be done but route planning just needs to be more sympathetic to it.
In many cases riding the roads actually meant I had a better view than if I had picked the off road alternative. This is mostly because the alternative would have been through thick forest where said view is behind the trees anyway.
Sustrans routes are designed to go through places of interest and as such are actually pretty interesting to follow. I have done very little Sustrans route riding but will endeavour to do more in the future.
All of the above means I'm getting old…
If you get up on to some of the more deserted mountain roads you get almost the same level of solitude as you would off road. There was times that I was getting past by a car every 30mins or so.
Using a tree as one end of the support for your tarp means you can get it up far quicker than using 2 poles.