I had planned to be riding and biving in Norfolk last weekend but unfortunately Nigel showed his true colours opting to spend the weekend with his in laws rather than doing man stuff with the boys. Duly noted sir, duly noted….
Luckily for me Mike came to the rescue trying to arrange a trip to Wales, so off we went. As it was clocks going back weekend that meant it was more than likely going to be cold and wet so we opted for a bothy stay. Neither of us had been to Lluest Cwm Bach so we took the opportunity to check it out. One of the draw backs of this bothy is that there are no fuel sources close by making it a bit more difficult to be sure of there being wood for the fire.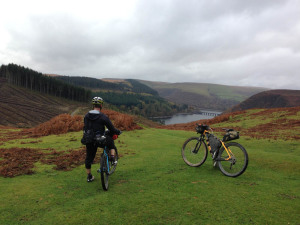 With the weather predicted being somewhat inclement, we decided that we weren't taking any chances so brought our own. Carrying a couple of sacks of wood around with us wasn't really high on our list of things to do though, so we drove up to the carpark at Craig Goch Reservoir and stashed our loot for later. After returning to Rhayader and finding a spot for the car we got under way. It was a fairly grey day and the rain came and went all afternoon. It never really got that heavy but was certainly enough to warrant the waterproofs.
We had planned to take the bridle way over Carn Gafallt but given the conditions and the lack of "can be arsed" we opted for the significantly easier roll down the hill on Sustrans route 81. We passed through Elan Village and followed the bridle way to the south of Caban-Coch over Gro Hill. I really like this stretch of riding as there is a little bit of everything. There's some ups and downs, some on grassy bits, others on stoney track and a few streams to cross as well.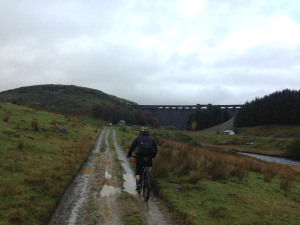 Even on a very Welsh type of day the views over the reservoir are stunning. After descending to the southern tip of Caban-Coch we had the choice of either crossing over to the road or keeping to the west of Afon Arban on the 4×4 track. I had been warned off this track before being told it's pretty much always wet. As I hadn't never ridden it though we decided to brave it and give it a go. "Wet" was certainly a understated description. However the vast majority of it is armoured track so think more riding down a stream than bog hopping. It was actually pretty good fun and provided some good technical challenge picking your route through the wet slippery bed rock. It's quite a surprise that Stuart hasn't put this track into a BearBones200 route yet as I'm sure it ticks lots of his boxes in the "getting their feet wet" department.
After reaching the southern tip of Claerwen we doubled back on the road turning left onto the bridle way over Rhos y Gelynnen. This starts out as a slippery grassy push before levelling out for a short way and then becoming a slippery, tussocky, boggy push. It's only a short though and after a couple of minutes gives way to a gravel track leading to the summit. There is then an excellent dirt single track descent through the woods which after crossing the fire road becomes much steeper and littered with large rocks. This was one of the best sections of riding on the route all weekend and left us both smiling from ear to ear. I had only ridden this once before on the BB200 in 2013.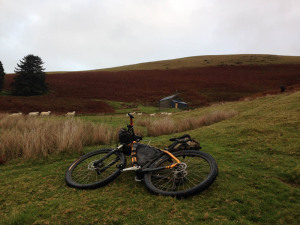 It had been dark then so it was nice to give it another blast when I could actually see where I was going. Crossing Garreg-ddu viaduct we followed the cycle path up to the car park where we stashed the wood earlier. We were pretty close to the bothy now and I for one was looking forward to getting out of the damp clothes and sitting round the fire. The wind had picked up as well adding to the chill in the air and the need for some extra warmth. There was the small matter though of the climb out of the valley and then traversing the edge of the reservoir on the barely visible sheep trail. This wouldn't have been so bad but carrying a few kilos of wood each certainly provided some unique extra challenge. On our way over we saw a walker in front of us. As there is really no reason to be on this trail unless you are going to the bothy we assumed we weren't going to have the place to ourselves. As we got closer however we realised that the guy was coming in the opposite direction and pushing a 2 wheeled trolley. I can't say this was within my experience of seeing walkers in remote areas of Wales. We stopped for a quick chat and he mentioned that he had left a loads of wood at the bothy and the fire was still going. With the promise of a roaring fire we pressed on making short work of the final yomp through the bracken.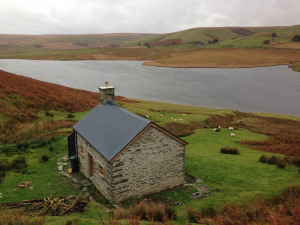 Lluest Cwm Bach is the newest of the MBA supported bothies. It was inhabited as recently as the 1950's and renovated during 2013, having only be open to the pubic for a year or so. It really shows as the inside is very clean and looks very well maintained. There is a large wood burner along with a classic Victorian style pulley clothes hanger. There is room to sleep 6-7 people on the platforms but if you don't mind rolling out your bed on the quarry tile floor you could get quite a few more in. This is without doubt my new favourite bothy and if there was just some woods near by to make fuel collection easier it would be the perfect winter location.
We had decided before hand that we were going to treat ourselves a bit this trip. I've spent a whole summer roughing it so I really didn't mind carrying a few extra home comforts. Mike was of the same opinion so we had both brought some things to make this a proper posh bothy experience. After we had had dinner we tucked into 3 different types of cheese along with biscuits, a small bottle of whisky, a pouch of red wine and a hip flask full of Port. This inevitably lead to hours of talking bollocks in front of the fire and generally enjoying the good company. The wind and rain continued outside and more than once we mentioned how lucky we were not to be under a tarp this evening.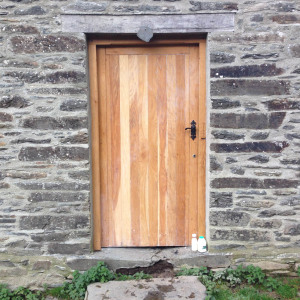 The next morning we slept in as we were in no rush to get riding again. It was only another 20miles or so back to the car via our planned route and having the whole day to get there we really didn't see any reason to get going to quickly. I got the fire going and we sat around in much a similar way to the previous evening, only with less booze and cheese and more porridge and coffee. As we had both brought proper coffee with us with thought it only right to have real milk. Fortunately the milk man had left some outside the door last night. 😉
Eventually we packed up our gear and made our way back to the bridle way that runs over the Roman Camp. It's a pretty steep grassy climb out of the valley but once over the summit the descent to the Rhayader mountain road is enjoyable enough to make it worth it. We doubled back on ourselves and followed the road for a short way to the top of the "Golf Links" descent to the back road to Llanguig. This is a great double track descent and probably one of the best runs in the area. Plenty of loose rocks to keep you on your toes with fast corners and big lumps of bed rock poking through to drop off. Whether you are out bikepacking or rocking around Wales on 6 inches of coil this descent is certainly worth having a go at. After reaching the road we headed north and up to the wind farm south of Llanguig. Earlier in the year a few of us had stumbled across a non MBA bothy/hut that would be great shelter in bad weather and Mike wanted to have a look at it. We stopped for a bite to eat and admired the view for 10mins. The weather had been dry this morning but as we looked west we could see a front rolling in that we didn't wish to experience.  With Mike's curiosity satisfied we set off across the wind farm.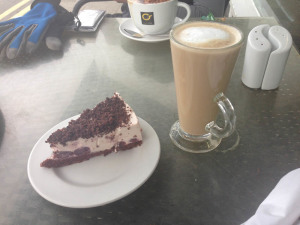 Although this part of route contained some great tracks and some fast descents, to say this is the path the less ridden would be an understatement. It's not exactly what you might term a right of way…
Once down from the wind farm we looped back round towards Rhayader on the back lanes. The plan had been to check out a couple of tracks further east but time had drifted on. We had the choice of riding those tracks or coffee and cake at the cafe. I think we all know what happened next.