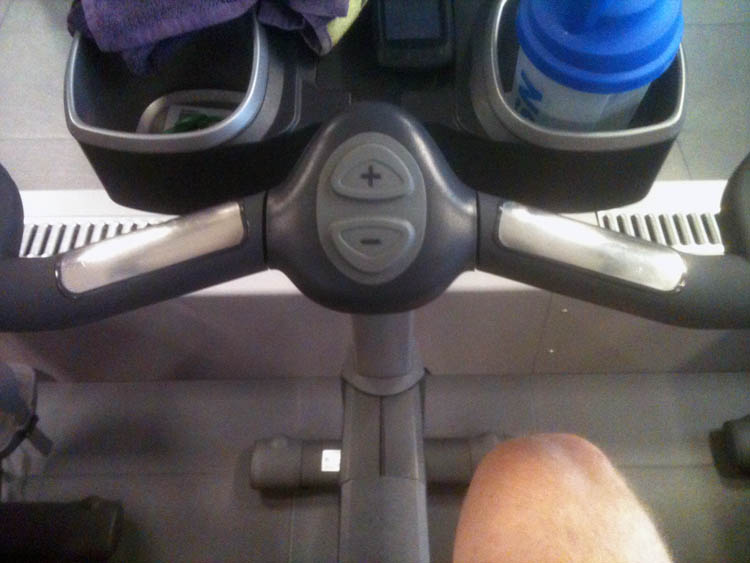 Phase 1 finished a month or so ago and to be honest I can't say I'm sad to see the back of it. I really don't mind the gym and I enjoy strength training generally, but 4 leg sessions a week took its toll and not being able to get any riding done other than commuting was sapping my will to live. I've entered Phase 2 now which is really about converting the raw strength/muscular endurance into something useful on the bike and getting my legs going again.
As I started phase 1 earlier than planned and my gym was closed over Christmas, I started riding properly again during the last 10 days of the December. Starting off with a 90mile road ride, 40 miles of which I was keeping up with 2 roady mates was not necessary the best way to ease myself back in to it. I did a few more long ones and a few short ones and by the start of Jan training week 1 I was feeling that my legs were starting to turn again. By the last ride I was feeling OK riding but my recovery still felt like it was taking longer than it should.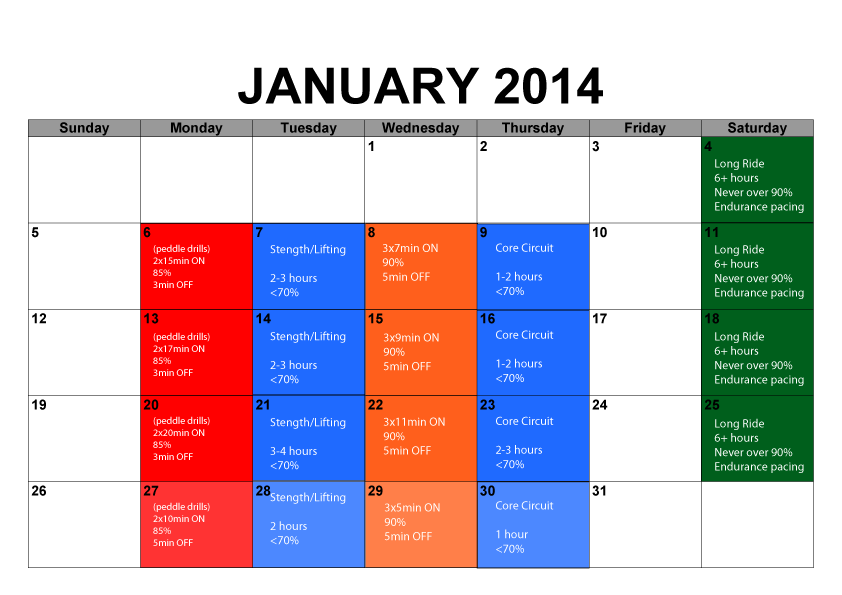 Plan
The plan as I er… planned it was as above. This didn't really happen in reality though. Reality looked more like the one below. It felt like this month was all about the intervals on the static bike and core work outs.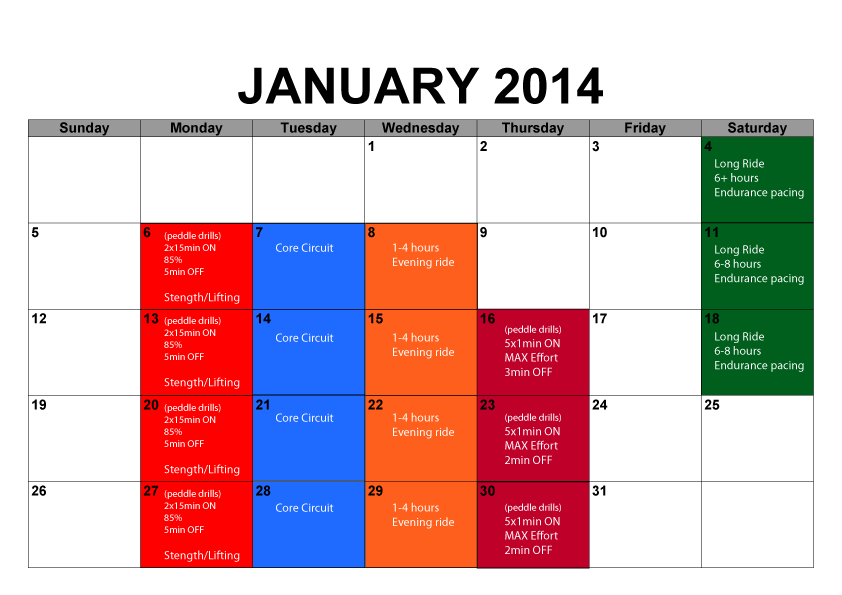 Intervals
The 85% intervals were really just to help get my legs going again. Going at this level for a sustained period though feels like riding up a hill and it hurts after a while so I feel this was pretty good.
The 90% intervals I ditched and just did Max efforts 1min on/2min off for 5 sets with 15mins warm up and down. I was doing some peddle drills during the warm ups. This was mostly to provide a bit of variety and to try to get my time in the red a bit higher. Still struggling a bit with MAX efforts in terms of getting to heart rate quick enough and maintaining the heart rate but without my legs dying. Stuff to work on.
Strength/Lifting
This was medium weight 3×10 style to help preserve some strength and muscle mass while I'm eating at a deficit and doing loads of cardio. I've been doing; Rack Squats, Leg Extensions, Leg Curls, Dead Lifts, Incline Dumbbell Chest Press and Pull Ups. I ended up shifting this so that I did it after my 85% intervals session. I did this because I was advised my Eleanor that it could start effecting other training days. I thought this was a good point so I shifted core day to the day after the weights and intervals which gave my legs a day to recover.
Core Circuit
I've been doing a circuit of core exercises once a week. A circuit comprises of exercises performed one after another with no rest in between but a few mins rest between each circuit. 3 circuits are done in a session. Exercises have been: Side Plank, Plank, Scissor Kicks, Russian Twist, Weighted Hyper-extension, Glute Bridge and Bird Dog. I have been enjoying just doing a core session on it's own. My abs take a really beasting but I know I've really done a work out, which makes me feel good.
I'll do one more week of the above, then have a rest week. The week after this I'm doing a multi-day bikepacking trip and at the end of that week my first race. This is only a short course race though in the shape of the Cannock Chase Winter Classic. Something like the 3rd week of February I will be into the next plan, whatever that ends up being. 🙂