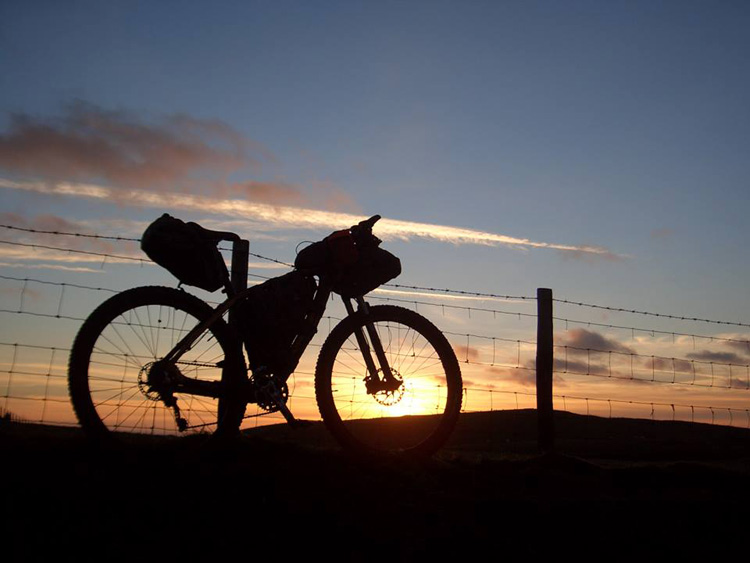 There 'N' Back is another bikepacking event organised by the good people at BearBonesBikePacking. The format goes like this. On Christmas Eve we received the info about where "There" is; in this case all the Spar shops within a 30mile-ish radius of the start place which was Llanbrynmair. We also received a bunch of grid references that are meant to help you plan your route. At the start and at the end there is tea, cake, toast and banter and a warm dry place for it to happen in. In between you ride as far as you like and get to as many of the Spars as you like. The point is to have a good time doing it. To add an extra incentive to get to the locations there were prizes available for those who found a photo of a gnome on 6 of the shop's notice boards.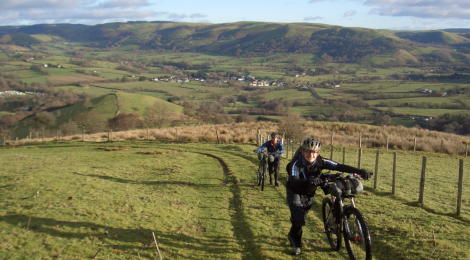 On Friday I headed to Pennant, which is just down the road form the start point, to meet up with Gabe and Andy at The Old School House. I had had a total nightmare of a day and finally pulling up at the B&B I was so pleased to jump into Gabes car and go to Mach for some dinner and a pint. We met with Gairy whose blog I have read and commented on for a while but had never actually met so it was nice to put face to the name. We had a couple of drinks and headed back for an early-ish night.
The next morning we tucked into a huge cooked breakfast kindly made by the very attentive Karen and Bernie. I would highly recommend the Old School House on every level. Conformable rooms, friendly proprietors, great food and extremely good value. Next was the short hop up to Llanbrynmair community centre where we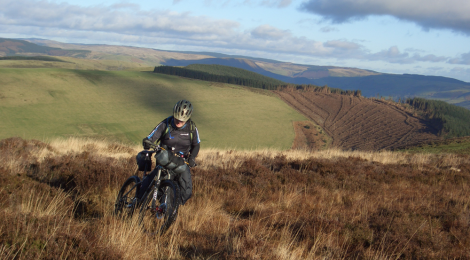 signed in and got our goodie bag. This consisted of a Bear Bones bum bag, a Mars bar and one of those instant hand warmer things which would have been extremely useful if I hadn't left it in the car… We had a quick cuppa and got on our way.
The first 10 miles or so were extremely slow going. Most of the climbs although steep were certainly ridable in dry weather but after the rain we have had the top surface was so slippery that traction was a real issue. Combine with this the barbed wire fence hurdling and the disappearing bridle way, it made for a frustrating start.  The fast, loose fire road descent off the back of Moelfre got us going though and from that point on it was mostly good riding.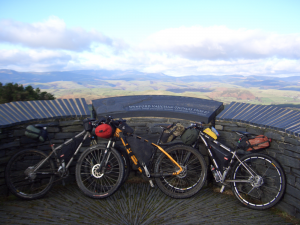 The descent from the monument at Foel Fadian was of particular note being fast but technical and on a loaded bike really made you concentrate. We continued to head west, with a couple more up and overs briefly touching on the Mach 3 way marked route before eventually getting to Machynlleth and stopping for a quick bite to eat at the Spar.
After some lunch we followed the A493 towards the coast for a short way until turning off taking the steep road and ridge track above Aberdovey. The second of the 2 climbs is a very rough and loose track that I had a go at but couldn't quite clear. I had ridden this as a descent before and it was great fun but as a climb, not so much. 🙂 The descent off the other side made up for it though and we dropped down into Twywn.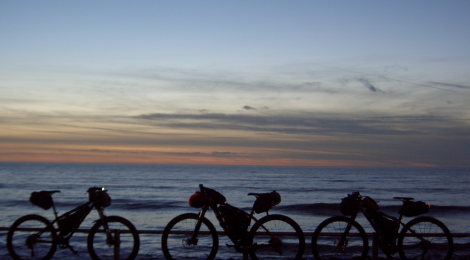 After taking a look at the sun set over the sea we picked up dinner from the Spar. It seems we were the first there and after taking a look at their notice board I picked up a gnome! Result!
The plan had been to head north to Dolgellau and then loop back south to bivi somewhere in Dyfi Forest. As the earlier hike-a-bike had pushed us behind schedule and the temperature was dropping rapidly, we agreed that it would probably be best to find a spot for the night sooner rather than later. We headed along our intended route on the road climb that becomes a double track up Rhydcriw. I pulled in front of the group and rode on my own for a little while. It was beautifully still and clear and I switched off my light to ride by the moon light for a while. I'm not used to this little light pollution and it was a great moment, spinning up the hill looking at the stars with just the sound of the bike to keep me company.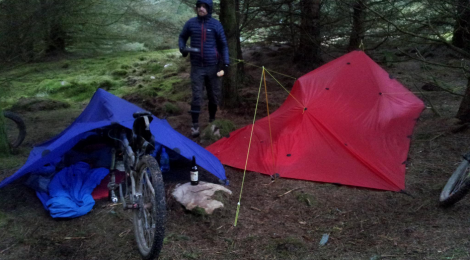 After you hit the track and weave around for a mile or so there is a small wood on the left where we bivied last December. We took up the same spot again although this time round it was a far easier proposition fitting in 3 people rather than 7. I'm glad we were able to get some shelter as it was considerably warmer in the trees compared to the clearing just yards away, where the grass was already getting crunchy. We pitched and got the food on. I tried out my new Vango frying pan which worked pretty well. It cooked my sausages fine and then doubled as plate. Bangers and mash a classic winter warmer; just a shame I forgot to bring the gravy. 🙂 We think it was about -3 over night but I was warm enough and although I had the normal broken sleep I get under a tarp I woke up the next day feeling OK. I cooked up the rest of my sausages for breakfast and we got under way.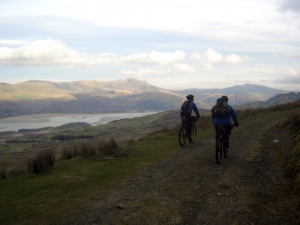 As we came out of the wooded section the view down to Aafon Mawddach with Barmouth opposite opened up in front of us. It was one of those truly epic views of rolling hills and mountains lit perfectly by the morning sun. It was clearly the stand out view of the whole trip. The descent from here past Cadair Idris and into Dolgellau was great fun and seemed to go on forever. The road was a bit icy in places though and being so fast it made for a few squeaky bum moments but with no cars about you were free to use the whole width of the road. We found the Spar and stopped for second breakfast, stocking up on sandwiches and sausage rolls.
The road climb out of Dolgellau and up over Cycle Route 8 is quite something. It just seems to keep going and going and going. I really enjoy a climb, sitting in, spinning the legs and eventually conquering the hill. I'm certainly from the "see hill must climb" way of thinking and this was no exception. To be fair I could have done without the headwind on the second half of it though. Unusual for the wind to have a big affect on a climb this steep but it's so open on the final stretch after the A478 there really is nothing to provide any sort of cover. We continued to follow the road through Dyfi Forest which had great views but also some 17-20% ramps to negotiate before we finally came off the tarmac and onto the fire roads. Again the views of the wooded valleys through Dyfi were incredible and we descended the winding fire roads with increasing recklessness. 😉 Once we reached the A470 a decision had to made regarding the route. The planned route was to still take us much further east and then swing south below Llanbrynmair. As the day had drifted on somewhat and some big journeys home still had to be made by the guys we decided to get back ASAP.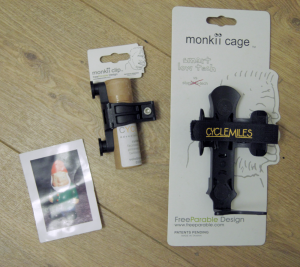 We blasted down the A-road back to the community centre in Llanbrynmair. We were greeted by the BearBones official mascot, tea, toast and very nice home made Lemon Drizzle cake. I exchanged my gnome for my prize which turned out to be a Monkii Cage and Monkii Clip which I was very happy with. I had looked at these a while ago and thought they might be a good addition for a fork leg but never took the plunge. I'll write up a review once I have had a chance to use it. Stories were swapped with other riders and eventually the room emptied and we departed for home, a great time had by all.
Big thanks go to Stuart and Dee for the organising and making everything happen.