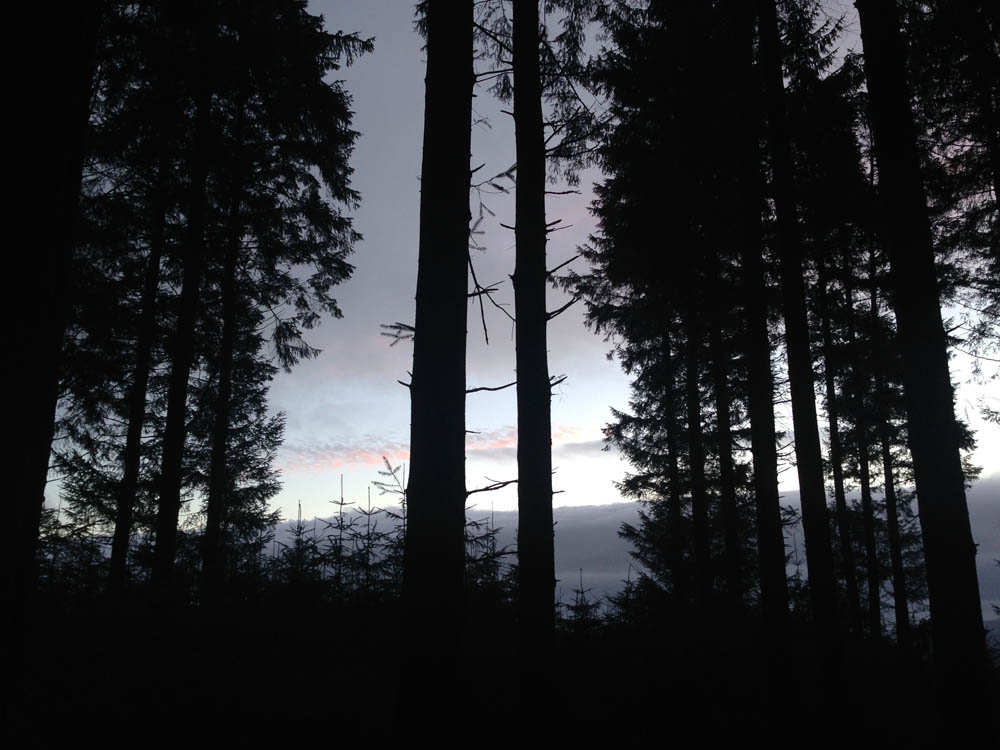 The year had started off pretty slow in terms of cycling. In December I had had some problems with my knees again so I decided to take 4 weeks off the bikes and give them some rest. I eased myself back into riding at the start of January and as everything had gone well, I wanted to make sure that I got in my first bivi of the year before the month was out. I was at 13 continuous months and was keen to carry on my win streak.
I didn't want to push it though and thought maybe the ups and downs of Wales might be a bit on the harsh side for my knees. As such I got in touch with Scott and we made a plan to go for a bivi up on the Long Mynd. I jumped on the train to Shrewsbury where we met and we headed south out of town and into the Shropshire country side. We kept mostly the country lanes but there was the odd bit of cheeky single track and farm road style double track. We had the option to dive off the road onto edge of field bridle way a number of times, but neither of us really fancied the prospect of ankle deep mud and the associated pushing. The small amount of riding I have been able to do this winter has pretty much all been on the cross bike round country lanes. I was thinking just last weekend that I really haven't missed slogging through the clag at all this winter and I wasn't about to start now.
After a few hours we reached Church Stretton and headed on through to Little Stretton and into the The Ragleth for dinner. The sun had set and taken with it any semblance of warmth from the day, so I was pretty glad to get inside and warm my feet at the log burner. We started into the beers and got comfortable for the evening. The food was really good and I would happily recommend this place. We got chatting to a guy called Terry who was in the area on holiday. He was actually quite an interesting bloke and ended up joining us for a few drinks. It was nice meeting you fella and great to have a real conversation with someone you meet randomly in a pub.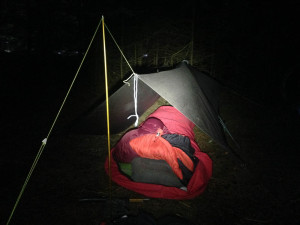 To be fair we probably got a little too comfortable as it was five pints of Guinness later before we finally dragged ourselves out into the cold. We tracked along the south edge of the Mynd before heading up on to the top via the fire road. There was a surprising amount of snow and ice still on the road and we were forced to walk most of the climb. It didn't take to long though and the amount of Guinness I had flowing though my veins helped make the time pass that bit quicker. Once at the top we found our spot in the trees and set up camp. I was quite tired by now and jumped into my new Lamina 0 sleeping bag. I'm going to write something more about this new bit of kit this week but rest assured it was lovely and warm and worth the extra weight and bulk.
I had woken up once during the night when the wind had picked up but I was feeling quite fresh when I got out the bag and into the world. At first it didn't seem to cold but as we packed our gear my hands gradually started to feel the stiff breeze, chilling them to the core. This wasn't helped by the fact that I had forgotten to pick up a lighter when packing my gear so I couldn't get my porridge and a brew on the go to warm me up. I was pretty annoyed actually as it meant another trip gone where I wasn't able to try out my new Ortlieb coffee filter.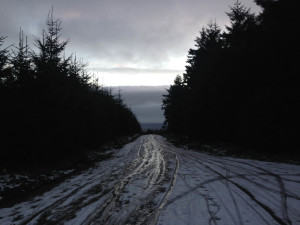 We took the fire road north-west and then cut round to the east heading towards the gliding club. Although the top layer of dirt had thawed it was certainly still frozen underneath which made for some fairly entertaining riding. We passed through the club, onto the road for a short stint before cutting right onto "route 9". This heads off the side of the hills bringing you out near the pub we stopped at the previous evening. The descent down was pretty tricky to say the least. The slippery mud combined with some large patches of ice made for treacherous conditions. To be fair though if just wanted to cruise down the hill then I should have brought a different bike, this is what mountain biking is about. I had one little fall on a particularly steep and slippery section but what hell it was one of those get up laughing your ass off type crashes so it did nothing to dampen my spirits. We continued into Church Stretton and found a cafe open for breakfast. We tucked into a couple of full English's and a few cups of coffee before making our way back to Shrewsbury so I could get the train.
It was a nice relaxed trip to start the year and to finish with my knees not only feeling intact but actually quite strong was a huge bonus. Thanks Scott for sorting the route and the for the good company.