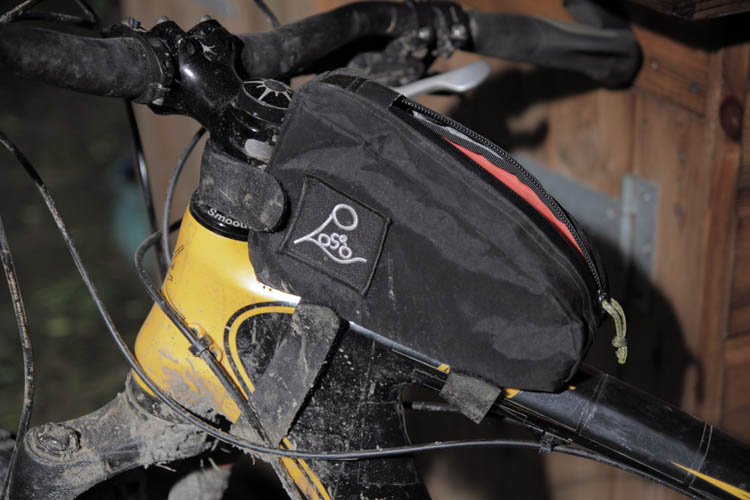 I had been casually trying to find a top tube bag that attached at the stem end for a little while but every time I found one I liked they were out of stock. After stumbling across No Logo Bikepacking via the BearBones forum I noticed that in their range they not only had frame bags (what I was really looking for) but also top tube bags. As they were a totally unknown quantity as far as I was concerned, I thought it wise to dip my toe in and give them a go first with the relatively cheap bag rather than diving straight in for frame bag. I wanted to get a handle on how they were to deal with as a company and the kind of workmanship and finish their products have.
"They" turned out to be Graham who runs, designs and manufactures all the kit that No Logo produce. Everything is made to order, which of course brings with it an associated lead time but also brings the ability to have everything customised for no or very minimal extra cost depending upon what you want. I went with a completely standard bag this time as I had no special requirements. The bag cost me £20 and after ordering on September 27th 2013 I received the bag on October 8th 2013.
It's made from Dimension Polyant VX21 fabric (the same stuff Revelate use) and uses YKK water resistant zips. Although Graham states that these zips are not totally waterproof they haven't let in any water during the light/medium rain conditions that I have used it in. There are 3 straps to fix it to the frame; one that goes round the stem and 2 that go around the top tube. All of these straps have plenty of length in them so should fit any size and configuration of frame. This is particularly useful for me as my frame has a large brace at the head tube meaning the strap has to loop under the down tube. Being able to have the strap go around this section of the bike means it's very stable. Additionally it has a lightly padded orange lining which is bright enough to help you see what is in the bag. All the stitching seems sturdy and the general feel of the bag is one of quality.
Length: 25cm
Height: 12.5cm
Width: 6.5cm
I have used the bag quite a few times now most notably on the Bearbones200 during which I was able to fit a camera, GPS power pack and phone. I also tend to stuff a spare buff in there to. Apart from some dirt the bag appears as new, with no signs of wear at all. Of course I wouldn't really expect to see any signs of wear yet but it's standing up well so watch this space. Graham is a pleasure to deal with and I would highly recommend his products.